Marketing has come a long way from just having one channel for advertising. With the advancement of technology, the internet has opened various opportunities for businesses to reach out to their target audience through different channels. Here, we will discuss the importance of paid earned shared owned media (PESO) in generating leads and how they can work together to create a well-rounded online marketing campaign.
What is Paid Media?
Paid media is a type of media where businesses pay for advertising, such as Google AdWords or other search and display ads. One of the challenges of paid media is how to avoid looking like a "used-car salesman" while using it. To overcome this challenge, marketers should avoid practices such as clickbait, which leads to content of dubious value or interest, and instead provide valuable information in their content. Furthermore, social media promotions should be humanized and made more appealing by adding humor and making the value of the advertisement clear.
What is Earned Media?
Earned media is where customers become the channel. Examples of earned media include word-of-mouth, reviews and ratings, press releases, or viral content. In today's digital world, businesses rely on earned media to gain visibility and trust among potential customers. To improve earned media, businesses should be a part of the online community, respond to feedback in a timely and gracious way, and offer to be a source for reporters.
What is Shared Media?
Shared media is largely influenced by social media activity. Businesses should be following and sharing content from the primary influencers in their category, as well as engaging in Facebook & LinkedIn groups or other verticals that are relevant to their business. This can help businesses gain more visibility and reach a wider audience.
What is Owned Media?
Owned media is the content that a business creates, such as blogs, videos, or free downloads. Businesses can invest in search engine optimization to increase their visibility in search engine results. However, it is important to create content that is original, consultative, and highly pertinent to where customers are in the decision-making process. To generate leads, businesses should focus on producing content that addresses market challenges and customer needs.
Below is a huge list of example of Paid, Earned, Shared, and Owned Media from Spin Sucks: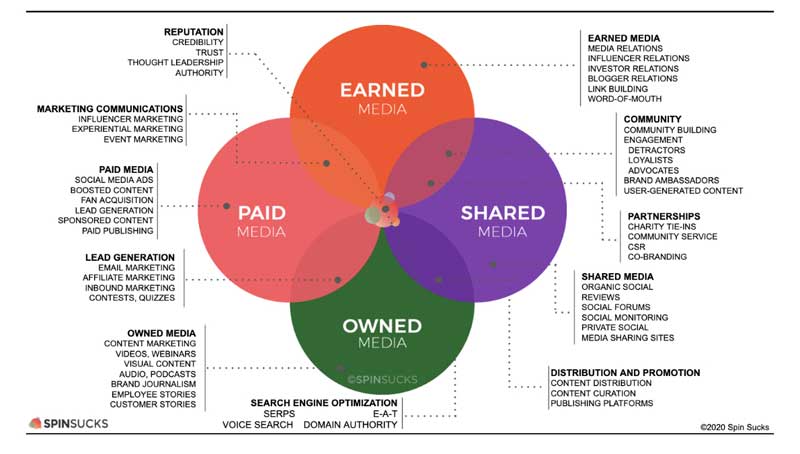 How Paid Earned Shared Owned Media Work Together?
While each type of media has its own unique advantages, they work best when combined. For example, businesses can use paid media to drive traffic to their owned media, such as a blog or landing page, where they can capture leads. Earned media can then be used to gain visibility and trust, while shared media can be used to amplify the reach of all types of media.
Conclusion
To succeed in online marketing, businesses need to think more about how potential customers not only find them but also engage with them, either directly or indirectly. Paid, earned, shared and owned, media are all important channels that can help businesses generate leads and reach a wider audience. By using these channels together, businesses can create a well-rounded online marketing campaign that is effective and efficient in generating leads and driving sales. If you looking to learn more, join my digital marketing training, we does discuss this topic within the 5 day's course.
Orginal articles from: https://www.calvyn.com/the-importance-of-paid-earned-shared-owned-media/